Massimo Bertinaria
Associate Professor
SSD: CHIM/08 - pharmaceutical chemistry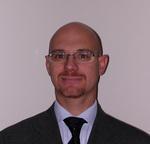 Contacts
0116707146 (office) 0116707148 (lab)
Via P. Giuria, 9 10125 Torino (Italy)
At
Department of Drug Science and Technology
Dipartimento di Scienza e Tecnologia del Farmaco
Corsi di studio in
Farmacia - Chimica e tecnologia farmaceutiche
SUISM - Struttura Universitaria di Igiene e Scienze Motorie
Dottorato in Scienze Farmaceutiche e Biomolecolari
Curriculum vitae
Curriculum Vitae (0.3 MB)
Research topics
Instituto Murciano de Investigacion Biosanitaria (IMIB) - ES
Goethe University - Frankfurt (DE)
Department of Medical Sciences, University of Turin
Department of Pharmaceutical Sciences, University of Milan
Selected Publications
1. Massimo Bertinaria, Simone Gastaldi and Elisabetta Marini. Development of selective NLRP3 inflammasome inhibitors. In "Inflammasome Biology. Fundamentals, Role in Disease States, and Therapeutic Opportunities." Edited by Pablo Pelegrin. Chapter 36, pages 565-582. Academic Press. Copyright © 2023 Elsevier Inc. ISBN: 978-0-323-91802-2.
2. Marini E, Marino M, Gionfriddo G, Maione F, Pandini M, Oddo D, Giorgis M, Rolando B, Blua F, Gastaldi S, Marchiò S, Kovachka S, Spyrakis F, Gianquinto E, Di Nicolantonio F, Bertinaria M. Investigation into the Use of Encorafenib to Develop Potential PROTACs Directed against BRAFV600E Protein. Molecules. 2022 Dec 3; 27(23):8513. https://doi.org/ 10.3390/molecules27238513. PMID: 36500607.
3. Marini, E.; Giorgis, M.; Leporati, M.; Rolando, B.; Chegaev, K.; Lazzarato, L.; Bertinaria, M.; Vincenti, M.; Di Stilo, A. Multitarget Antioxidant NO-Donor Organic Nitrates: A Novel Approach to Overcome Nitrates Tolerance, an Ex Vivo Study. Antioxidants 2022, 11, 166. https://doi.org/10.3390/antiox11010166.
5. Gastaldi S, Boscaro V, Gianquinto E, Sandall CF, Giorgis M, Marini E, Blua F, Gallicchio M, Spyrakis F, MacDonald JA and Bertinaria M. Chemical modulation of the 1-(piperidin-4-yl)-1,3-dihydro-2H-benzo[d]imidazole-2-one scaffold as a novel NLRP3 inhibitor. Molecules 2021, 26(13), 3975; https://doi.org/10.3390/molecules26133975.
6. Penna C, Aragno M, Cento A. S, Femminò, s, Russo I, Dal Bello F, Chiazza F, Collotta D, Ferreira Alves G, Bertinaria M, Zicola E, Mercurio V, Medana C, Collino M, Pagliaro P. "Ticagrelor Conditioning Effects Are Not Additive to Cardioprotection Induced by Direct NLRP3 Inflammasome Inhibition: role of RISK, NLRP3 and Redox cascades". Ox. Med. Cell. Longev. 2020 Art. ID 9219825.
7. Bertinaria, M., Gastaldi, S., Marini, E., Giorgis, M. Development of covalent NLRP3 inflammasome inhibitors: Chemistry and biological activity. Arch. Biochem. Biophys. 2019, 670, 116-139. doi: 10.1016/j.abb.2018.11.013.
8. Pellegrini C., Fornai M., Colucci R., Benvenuti L., D'Antongiovanni V., Natale G., Fulceri F., Giorgis M., Marini E., Gastaldi S., Bertinaria M., Blandizzi C. and Antonioli L. A Comparative Study on the Efficacy of NLRP3 Inflammasome Signaling Inhibitors in a Pre-clinical Model of Bowel Inflammation. Front. Pharmacol. 2018, 9:1405. doi: 10.3389/fphar.2018.01405.
9. Atlante, S., Visintin, A., Marini, E., Savoia, M., Dianzani, C., Giorgis, M., Sürün, D., Maione, F., Schnütgen, F., Farsetti, A., Zeiher, A.M., Bertinaria, M., Giraudo, E., Spallotta, F., Cencioni, C., Gaetano, C. α-ketoglutarate dehydrogenase inhibition counteracts breast cancer-associated lung metastasis. Cell Death Dis. 2018, 9:756
10. Spallotta, F., Cencioni, C., Atlante, Garella, D., Cocco, M., Mori, M., Mastrocola, R., Kuenne, C., Guenther, S., Nanni, S., Azzimato, V., Zukunft, S., Kornberger, A., Sürün, D., Schnütgen, F., von Melchner, H., Di Stilo, A., Aragno, M., Braspenning, M., van Criekinge, W., De Blasio, M., Ritchie, R. H., Zaccagnini, G., Martelli, F., Farsetti, A., Fleming, I., Braun, T., Beiras-Fernandez, A., Botta, B., Collino, M., Bertinaria, M., Zeiher, A., M., Gaetano, C. Stable oxidative cytosine modifications accumulate in cardiac mesenchymal cells from Type2 diabetes patients: rescue by alpha-ketoglutarate and TET-TDG functional reactivation. Circ. Res. 2018, 122, 31-46.
11. Cocco M, Pellegrini C, Martinez-Banaclocha H, Giorgis M, Marini E, Costale A, Miglio G, Fornai M, Antonioli L, Lopez-Castejon G, Tapia-Abellan A, Angosto D, Hafner-Bratkovic I, Regazzoni L, Blandizzi C, Pelegrin P, Bertinaria M. Development of an acrylate derivative targeting the NLRP3 inflammasome for the treatment of Inflammatory Bowel Disease. J. Med. Chem. 2017, 60, 3656- 3671.
12. Carnevali S, Buccellati C, Bolego C, Bertinaria M, Rovati G.E, Sala A. Non Steroidal Anti-Inflammatory Drugs: exploiting Bivalent COXIB/TP antagonists for the control of cardiovascular risk. Curr. Med. Chem. 2017, 24(30):3218-3230. doi: 10.2174/0929867324666170602083428
Designing small molecules regulating DNA methylation: a medicinal chemistry approach. Invited speaker at the International CGT workshop on DNA methylation, Goethe University, Frankfurt-am-Main (Germany) 29th, May 2015.
Different multitarget approaches to manage coxibs associated cardiovascular risk.
Design and synthesis of new lumiracoxib derivatives. XXI National meeting on medicinal chemistry, Palermo 17-20 July 2012
Discovery of small molecules acting on NLRP3 inflammasome and related pathways
Design and synthesis of multi-target drugs
Research groups
Research projects
Activities in agenda
Academic bodies
Office hours
Mercoledì 16-18