Chiara Emilia Irma Cordero
Professor
SSD: CHIM/10 - food chemistry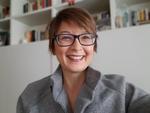 Contacts
0116702197
Via Pietro Giuria, 9 Torino I-10125
At
Department of Drug Science and Technology
Dipartimento di Scienza e Tecnologia del Farmaco
Corsi di studio in
Farmacia - Chimica e tecnologia farmaceutiche
Corso di laurea in Chimica e Tecnologie Chimiche
Corso di Laurea in Dietistica
Corso di Laurea in Tecniche della Prevenzione nell'Ambiente e nei Luoghi di Lavoro - SNT/4
Corso di Laurea in Tecniche Erboristiche
Corso di Laurea Magistrale in Scienze e tecnologie alimentari - STAL
Master di II livello in "Innovation in Food Science and Technology – Michele Ferrero"
Dottorato in Scienze Farmaceutiche e Biomolecolari
Curriculum vitae
Curriculum Vitae (0.4 MB)
Research products
All my research products
Selected research products
Squara S, Manig F, Henle T, Hellwig M, Caratti A, Bicchi C, Reichenbach SE, Tao Q, Collino M, Cordero C. (2023) Extending the breadth of saliva metabolome fingerprinting by smart template strategies and effective pattern realignment on comprehensive two-dimensional gas chromatographic data. Analytical and bioanalytical chemistry [DOI PMID]
Caratti A, Squara S, Stilo F, Battaglino S, Liberto E, Cincera I, Genova G, Spigolon N, Bicchi C, Cordero C. (2022) Integrated Strategy for Informative Profiling and Accurate Quantification of Key-Volatiles in Dried Fruits and Nuts: An Industrial Quality Control Perspective. Foods (Basel, Switzerland) 11(19) [DOI PMID]
Squara S, Ferrero F, Tabacco E, Cordero C, Borreani G. (2022) Effect of Inoculation with Lentilactobacillus buchneri and Lacticaseibacillus paracasei on the Maize Silage Volatilome: The Advantages of Advanced 2D-Chromatographic Fingerprinting Approaches. Journal of agricultural and food chemistry 70(38) 12232-12248 [DOI PMID]
Strocchi G, Rubiolo P, Cordero C, Bicchi C, Liberto E. (2022) Acrylamide in coffee: What is known and what still needs to be explored. A review. Food chemistry 393 133406 [DOI PMID]
Stilo F, Cialie Rosso M, Squara S, Bicchi C, Cordero C, Cagliero C. (2022) Corylus avellana L. Natural Signature: Chiral Recognition of Selected Informative Components in the Volatilome of High-Quality Hazelnuts. Frontiers in plant science 13 844711 [DOI PMID]
Squara S, Stilo F, Cialie Rosso M, Liberto E, Spigolon N, Genova G, Castello G, Bicchi C, Cordero C. (2022) Corylus avellana L. Aroma Blueprint: Potent Odorants Signatures in the Volatilome of High Quality Hazelnuts. Frontiers in plant science 13 840028 [DOI PMID]
Stilo F, Jimenez-Carvelo AM, Liberto E, Bicchi C, Reichenbach SE, Cuadros-Rodriguez L, Cordero C. (2021) Chromatographic Fingerprinting Enables Effective Discrimination and Identitation of High-Quality Italian Extra-Virgin Olive Oils. Journal of agricultural and food chemistry 69(31) 8874-8889 [DOI PMID]
Stilo F, Segura Borrego MDP, Bicchi C, Battaglino S, Callejon Fernadez RM, Morales ML, Reichenbach SE, McCurry J, Peroni D, Cordero C. (2021) Delineating the extra-virgin olive oil aroma blueprint by multiple headspace solid phase microextraction and differential-flow modulated comprehensive two-dimensional gas chromatography. Journal of chromatography. A 1650 462232 [DOI PMID]
Stilo F, Liberto E, Reichenbach SE, Tao Q, Bicchi C, Cordero C. (2021) Exploring the Extra-Virgin Olive Oil Volatilome by Adding Extra Dimensions to Comprehensive Two-Dimensional Gas Chromatography and Time-of-Flight Mass Spectrometry Featuring Tandem Ionization: Validation of Ripening Markers in Headspace Linearity Conditions. Journal of AOAC International 104(2) 274-287 [DOI PMID]
Gabetti E, Sgorbini B, Stilo F, Bicchi C, Rubiolo P, Chialva F, Reichenbach SE, Bongiovanni V, Cordero C, Cavallero A. (2021) Chemical fingerprinting strategies based on comprehensive two-dimensional gas chromatography combined with gas chromatography-olfactometry to capture the unique signature of Piemonte peppermint essential oil (Mentha x piperita var Italo-Mitcham). Journal of chromatography. A 1645 462101 [DOI PMID]
Cialie Rosso M, Stilo F, Mascrez S, Bicchi C, Purcaro G, Cordero C. (2021) Shelf-Life Evolution of the Fatty Acid Fingerprint in High-Quality Hazelnuts (Corylus avellana L.) Harvested in Different Geographical Regions. Foods (Basel, Switzerland) 10(3) [DOI PMID]
Stilo F, Bicchi C, Reichenbach SE, Cordero C. (2021) Comprehensive two-dimensional gas chromatography as a boosting technology in food-omic investigations. Journal of separation science 44(8) 1592-1611 [DOI PMID]
Cialie Rosso M, Stilo F, Squara S, Liberto E, Mai S, Mele C, Marzullo P, Aimaretti G, Reichenbach SE, Collino M, Bicchi C, Cordero C. (2021) Exploring extra dimensions to capture saliva metabolite fingerprints from metabolically healthy and unhealthy obese patients by comprehensive two-dimensional gas chromatography featuring Tandem Ionization mass spectrometry. Analytical and bioanalytical chemistry 413(2) 403-418 [DOI PMID]
Stilo F, Liberto E, Spigolon N, Genova G, Rosso G, Fontana M, Reichenbach SE, Bicchi C, Cordero C. (2021) An effective chromatographic fingerprinting workflow based on comprehensive two-dimensional gas chromatography - Mass spectrometry to establish volatiles patterns discriminative of spoiled hazelnuts (Corylus avellana L.). Food chemistry 340 128135 [DOI PMID]
Stilo F, Cordero C, Bicchi C, Peroni D, Tao Q, Reichenbach SE. (2020) Chromatographic Fingerprinting by Template Matching for Data Collected by Comprehensive Two-Dimensional Gas Chromatography. Journal of visualized experiments : JoVE (163) [DOI PMID]
Stilo F, Gabetti E, Bicchi C, Carretta A, Peroni D, Reichenbach SE, Cordero C, McCurry J. (2020) A step forward in the equivalence between thermal and differential-flow modulated comprehensive two-dimensional gas chromatography methods. Journal of chromatography. A 1627 461396 [DOI PMID]
Scavarda C, Cordero C, Strocchi G, Bortolini C, Bicchi C, Liberto E. (2021) Cocoa smoky off-flavour: A MS-based analytical decision maker for routine controls. Food chemistry 336 127691 [DOI PMID]
Stilo F, Tredici G, Bicchi C, Robbat A Jr, Morimoto J, Cordero C. (2020) Climate and Processing Effects on Tea (Camellia sinensis L. Kuntze) Metabolome: Accurate Profiling and Fingerprinting by Comprehensive Two-Dimensional Gas Chromatography/Time-of-Flight Mass Spectrometry. Molecules (Basel, Switzerland) 25(10) [DOI PMID]
Benetti E, Liberto E, Bressanello D, Bordano V, Rosa AC, Miglio G, Haxhi J, Pugliese G, Balducci S, Cordero C. (2020) Sedentariness and Urinary Metabolite Profile in Type 2 Diabetic Patients, a Cross-Sectional Study. Metabolites 10(5) [DOI PMID]
Liberto E, Bressanello D, Strocchi G, Cordero C, Ruosi MR, Pellegrino G, Bicchi C, Sgorbini B. (2019) HS-SPME-MS-Enose Coupled with Chemometrics as an Analytical Decision Maker to Predict In-Cup Coffee Sensory Quality in Routine Controls: Possibilities and Limits. Molecules (Basel, Switzerland) 24(24) [DOI PMID]
Spina F, Gea M, Bicchi C, Cordero C, Schiliro T, Varese GC. (2020) Ecofriendly laccases treatment to challenge micropollutants issue in municipal wastewaters. Environmental pollution (Barking, Essex : 1987) 257 113579 [DOI PMID]
Rosso MC, Mazzucotelli M, Bicchi C, Charron M, Manini F, Menta R, Fontana M, Reichenbach SE, Cordero C. (2020) Adding extra-dimensions to hazelnuts primary metabolome fingerprinting by comprehensive two-dimensional gas chromatography combined with time-of-flight mass spectrometry featuring tandem ionization: Insights on the aroma potential. Journal of chromatography. A 1614 460739 [DOI PMID]
Perotti P, Cordero C, Bortolini C, Rubiolo P, Bicchi C, Liberto E. (2020) Cocoa smoky off-flavor: Chemical characterization and objective evaluation for quality control. Food chemistry 309 125561 [DOI PMID]
Morimoto J, Rosso MC, Kfoury N, Bicchi C, Cordero C, Robbat A Jr. (2019) Untargeted/Targeted 2D Gas Chromatography/Mass Spectrometry Detection of the Total Volatile Tea Metabolome. Molecules (Basel, Switzerland) 24(20) [DOI PMID]
Stilo F, Liberto E, Reichenbach SE, Tao Q, Bicchi C, Cordero C. (2019) Untargeted and Targeted Fingerprinting of Extra Virgin Olive Oil Volatiles by Comprehensive Two-Dimensional Gas Chromatography with Mass Spectrometry: Challenges in Long-Term Studies. Journal of agricultural and food chemistry 67(18) 5289-5302 [DOI PMID]
Cordero C, Guglielmetti A, Bicchi C, Liberto E, Baroux L, Merle P, Tao Q, Reichenbach SE. (2019) Comprehensive two-dimensional gas chromatography coupled with time of flight mass spectrometry featuring tandem ionization: Challenges and opportunities for accurate fingerprinting studies. Journal of chromatography. A 1597 132-141 [DOI PMID]
Reichenbach SE, Zini CA, Nicolli KP, Welke JE, Cordero C, Tao Q. (2019) Benchmarking machine learning methods for comprehensive chemical fingerprinting and pattern recognition. Journal of chromatography. A 1595 158-167 [DOI PMID]
Mack CI, Egert B, Liberto E, Weinert CH, Bub A, Hoffmann I, Bicchi C, Kulling SE, Cordero C. (2019) Robust Markers of Coffee Consumption Identified Among the Volatile Organic Compounds in Human Urine. Molecular nutrition & food research 63(10) e1801060 [DOI PMID]
Sgorbini B, Cagliero C, Acquadro S, Marengo A, Cordero C, Liberto E, Bicchi C, Rubiolo P. (2019) Evaluation of volatile bioactive secondary metabolites transfer from medicinal and aromatic plants to herbal teas: Comparison of different methods for the determination of transfer rate and human intake. Journal of chromatography. A 1594 173-180 [DOI PMID]
Cordero C, Guglielmetti A, Sgorbini B, Bicchi C, Allegrucci E, Gobino G, Baroux L, Merle P. (2019) Odorants quantitation in high-quality cocoa by multiple headspace solid phase micro-extraction: Adoption of FID-predicted response factors to extend method capabilities and information potential. Analytica chimica acta 1052 190-201 [DOI PMID]
Sgorbini B, Cagliero C, Liberto E, Rubiolo P, Bicchi C, Cordero C. (2019) Strategies for Accurate Quantitation of Volatiles from Foods and Plant-Origin Materials: A Challenging Task. Journal of agricultural and food chemistry 67(6) 1619-1630 [DOI PMID]
Liberto E, Cordero C, Bicchi C. (2019) 4(th) Conference on Cocoa Coffee and Tea (CoCoTea 2017) - The world in a cup. Food research international (Ottawa, Ont.) 115 302 [DOI PMID]
Giardina M, McCurry JD, Cardinael P, Semard-Jousset G, Cordero C, Bicchi C. (2018) Development and validation of a pneumatic model for the reversed-flow differential flow modulator for comprehensive two-dimensional gas chromatography. Journal of chromatography. A 1577 72-81 [DOI PMID]
Ulaszewska MM, Weinert CH, Trimigno A, Portmann R, Andres Lacueva C, Badertscher R, Brennan L, Brunius C, Bub A, Capozzi F, Cialie Rosso M, Cordero CE, Daniel H, Durand S, Egert B, Ferrario PG, Feskens EJM, Franceschi P, Garcia-Aloy M, Giacomoni F, Giesbertz P, Gonzalez-Dominguez R, Hanhineva K, Hemeryck LY, Kopka J, Kulling SE, Llorach R, Manach C, Mattivi F, Migne C, Munger LH, Ott B, Picone G, Pimentel G, Pujos-Guillot E, Riccadonna S, Rist MJ, Rombouts C, Rubert J, Skurk T, Sri Harsha PSC, Van Meulebroek L, Vanhaecke L, Vazquez-Fresno R, Wishart D, Vergeres G. (2019) Nutrimetabolomics: An Integrative Action for Metabolomic Analyses in Human Nutritional Studies. Molecular nutrition & food research 63(1) e1800384 [DOI PMID]
Bressanello D, Liberto E, Cordero C, Sgorbini B, Rubiolo P, Pellegrino G, Ruosi MR, Bicchi C. (2018) Chemometric Modeling of Coffee Sensory Notes through Their Chemical Signatures: Potential and Limits in Defining an Analytical Tool for Quality Control. Journal of agricultural and food chemistry 66(27) 7096-7109 [DOI PMID]
Mastrocola R, Ferrocino I, Liberto E, Chiazza F, Cento AS, Collotta D, Querio G, Nigro D, Bitonto V, Cutrin JC, Rantsiou K, Durante M, Masini E, Aragno M, Cordero C, Cocolin L, Collino M. (2018) Fructose liquid and solid formulations differently affect gut integrity, microbiota composition and related liver toxicity: a comparative in vivo study. The Journal of nutritional biochemistry 55 185-199 [DOI PMID]
Bressanello D, Liberto E, Collino M, Chiazza F, Mastrocola R, Reichenbach SE, Bicchi C, Cordero C. (2018) Combined untargeted and targeted fingerprinting by comprehensive two-dimensional gas chromatography: revealing fructose-induced changes in mice urinary metabolic signatures. Analytical and bioanalytical chemistry 410(11) 2723-2737 [DOI PMID]
Cagliero C, Bicchi C, Cordero C, Liberto E, Rubiolo P, Sgorbini B. (2018) Ionic liquids as water-compatible GC stationary phases for the analysis of fragrances and essential oils. Analytical and bioanalytical chemistry 410(19) 4657-4668 [DOI PMID]
Rosso MC, Liberto E, Spigolon N, Fontana M, Somenzi M, Bicchi C, Cordero C. (2018) Evolution of potent odorants within the volatile metabolome of high-quality hazelnuts (Corylus avellana L.): evaluation by comprehensive two-dimensional gas chromatography coupled with mass spectrometry. Analytical and bioanalytical chemistry 410(15) 3491-3506 [DOI PMID]
Research topics
- Prof. Stephen E Reichenbach, Computer Science and Engineering Department, University of Nebraska, Lincoln (NE USA)
- Dr. Sabine Kulling and Dr. Christoph Weinert, Institut für Sicherheit und Qualität bei Obst und Gemüse - Max Rubner-Institut - Bundesforschungsinstitut für Ernährung und Lebensmittel, Karlsruhe (Germany)
- Prof. Luis Cuadros-Rodriuguez Department of Analytical Chemistry, University of Granada (Spain)
- Prof. Albert Robbat Jr. Department of Chemistry, Tufts University – Medford, MA, USA. (https://chem.tufts.edu/faculty/robbat/)
- Prof. Giorgia Purcaro - Campus Gembloux AgroBioTech, University of Liege (Belgium)
- Dr. Humberto Bizzo, Embrapa Food Technology, Rio de Janeiro (Brazil)
- Prof. André de Villiers, Department of Chemistry and Polymer Science, University of Stellenbosch, Stellenbosh (South Africa)
- Prof. Henryk Jelen, Faculty of Food Science and Nutrition, Poznan University of Life Sciences (Poznan, Polonia)
See: http://orcid.org/0000-0003-3201-0775
Application and Core Technology University Research (ACT-UR) Agilent Technologies Inc., Project "Development and Validation of Novel Tools to Facilitate Conversion of Thermal Modulated GCxGC Methods to Reverse Flow Modulated GCxGC Methods" Grant #4294
JPI HDHL A Healthy Diet for a Healthy Life and ERA-NET Cofund HDHL INTIMIC (GA N° 727565 of the EU Horizon 2020 Research and Innovation Programme) Project Carb-Q-4-Health.
ERA-HDHL Transnational Call "Biomarkers for Nutrition and Health Project: "Innovative Technological Approaches for validation of Salivary AGEs as novel biomarkers in the evaluation of risk factors for diet-related diseases".
Probiotici nella sensibilità non celiaca al glutine (PROBIOSENS)
Valorization of Italian Olive products through Innovative analytical tools - VIOLIN
MILK-ZERO Effetti della gestione delle produzioni nell'azienda zootecnica sulla presenza di contaminanti nei prodotti lattiero-caseari: Studio di una filiera a residuo zero in Piemonte
NUTRAcore Piattattaforma integrata per lo sviluppo di processi innovativi
Cooperation and Research Projects for Technology Transfer: Lavazza SpA, Soremartec Italia SpA, InnovHub Stazioni Sperimentali per l'Industria, SRA Instruments SpA, Firmenich SA Analytical Innovation Labs, GC Image LCC, Agilent Technologies.
Research groups
Research projects
Activities in agenda
Academic bodies
Office hours
Al termine delle lezioni e previo appuntamento telefonico